Questionnaire: What Financial Help Can I Get Living Abroad?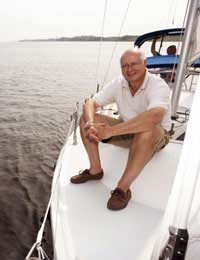 Before you pack your bags and move to your picturesque new retirement home you may want to take a step back and look at how your finances will differ when you are living aboard.
In most cases you will be able to claim a benefit abroad that you have been in the UK, but some restrictions may apply. These few questions should help you judge whether the financial help you receive while abroad will be enough to keep you financially fit in your retirement.
1: Pension
A) I have started collecting my state pension in the UK
B) I am moving to a country outside of the UK but have already started to collect my pension in the UK.
C) I am moving outside of the UK and I will be moving there before I start collecting my pension in the UK.
2: Company pension
A) I have checked with my employer and my company pension can be paid into an overseas account at no extra cost
B) I have not asked my company yet what rules will apply to my pension overseas
C) My company insists that my company pension be paid into a UK bank account
3: Medical Expenses
A) I am moving to an European Economic Area and have started to collect my pension
B) I have not started to collect my pension but I'm moving to an EEA country
C) I am moving outside of the EEA and have not started collecting my pension
4: Social Care
A) I have saved up money in a UK account to cover the costs of any home care, transport services and residential care
B) I have a little saved but I am relying in the country I move to
C) I am fully reliant on the country where I move to supply me with social care
5: Residential Home Care
A) I plan to live abroad for only some part of my retirement, so will still be classed as a UK citizen
B) I am moving to a country which has a very well established residential home care system
C) I am moving full-time to a country which has very few residential homes
Answers
Mostly As
If you answered mostly As it sounds like you have your financial head screwed on and you will not be a lot worse of financially for spending your retirement abroad. It is still important though to carry out your research on the country. Each country differs when it comes to things such as residential care and social care. You should be able to collect your state and company pension while living abroad.
If you Answered Mostly Bs
If you answered mostly Bs it appears that you will still be able to claim a lot of what you would in the UK, but there are a few grey areas. You will need to check whether the country you are visiting is a European Economic Area, which means that the UK has come to some agreement with it regarding footing the bill for things such as your medical care.
It may also be that you might lose some of your company pension if your employer does not let you transfer it from an overseas account, which could mean a substantial loss to any of your income. If you are relying on your new country to pay for your residential care, don't assume that just because they have an advanced care system you will receive more help towards the funding of the care.
If You Answered Mostly Cs
If you answered mostly Cs it sounds like you should delve into what your chosen country will be able to offer you in terms of financial support in your retirement. If you are moving out of the EU there is often less help available to you.
Also if you have not yet reached retirement age in the UK and plan to start claiming your pension while abroad you may find that you won't be allowed and you will at least have to claim your pension for a few months in the UK. It tends to be that the close you are aligned to the EU the better your benefits will be.
It's important not to underestimate how much you may come to rely on the financial help of the country you move to in retirement. You should not go to a country with your hands out and expect them to automatically give you the same benefits as you would in the UK. You will need to decide the worse case scenario and whether you would just be able to get by without any help.
You might also like...