Retiring to Greece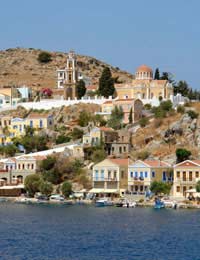 Greece is a hard place to generalise about when it comes to retiring there as you not only have the mainland but you have over 6,000 Greek islands too. Not all of them are inhabited, however. Nevertheless, there are many Brits now settled in retirement in Greece or on one of the more popular holiday destinations such as Crete, Corfu and Rhodes, although there are many others to choose from.
Think about Winter First
Many people who are thinking about retiring to Greece do so as the result of having spent many happy summers on holiday there. However, if you've got a certain destination in mind, it's recommended that you go and visit in winter time too before you decide to 'up stick' and relocate. What is important to remember is that many parts of Greece shut down for the winter time so if you're not prepared to adopt the Greek way of life, learn a little bit more of the language and find it hard to cope with island life when the weather isn't that great, your 'idyllic' view of retiring there might well be shattered.
Mobility and Accessibility
If you intend living near a larger city such as Athens or a fairly bustling town such as Corfu Town, access to basic facilities and amenities is not going to be a problem in the winter. However, it cannot be emphasised enough how things like access to shops and health services can be severely restricted over the winter months.
Medical Care
As a member state of the EU, Greece and its islands offer UK pensioners the same access to basic healthcare facilities. However, it's important you take out private healthcare insurance too, particularly if you intend living on one of the islands where public health facilities can be quite limited.
Property
Property prices in Greece tend to be cheaper than their Spanish or Portuguese equivalent but if you're buying on one of its remote smaller islands or 'off plan', it's imperative that you hire an English speaking solicitor who has a thorough understanding of the Greek property law. Some people choose to buy 'off plan' to enjoy the magnificent views from the plot of land with their own olive grove which they may have chosen overlooking the sea. However, unless you hire a competent solicitor, you might find that your olive grove turns into the next housing development.
Culture
You'll no doubt be familiar with tales of Ancient Greece and it's also the birthplace of the Olympic Games and of major mathematical and scientific discoveries so it is steeped in history as well as having a rich artistic and cultural heritage.
Climate
Don't be fooled by judging the weather and climate in Greece by holidays you've taken in the summer. The summer months are wonderful if you like constant sunshine and hot temperatures. However, it can get just as cold as the UK in the winter time and the climate can vary significantly from island to island.
Food
Greece is reputed to have one of the best and healthiest of all Mediterranean diets and olive groves are a common sight on the Greek landscape. Souvlaki, kleftiko and an abundance of fish dishes together with some of the best salad ingredients in the world make Greece a haven for Mediterranean type food lovers.
Cost of Living
Whilst the cost of living in Greece is about the same as most other European countries, the more laid back and simple lifestyle means that you're not likely to be averse to spending a lot of money chasing the 'dream'. The summers in particular are going to be hot and if you live near the sea, you'll have the breeze which means you won't need air conditioning which you're likely to do in other more rural parts over the summer months because of the intense heat.
The key to retiring to Greece year round however is to either find out about other expat communities living there or take the plunge and immerse yourself in all Greece has to offer which includes learning the language. This will be vital if you live on one of the smaller islands especially in the winter, if you want to feel part of a local community as far fewer locals speak English than the likes of in Spain, for example, even in the some of the more touristy destinations.
You might also like...
I am looking for a gated community with health care and social meeting place by the sea
Roger
- 3-May-21 @ 12:31 PM