How Technology is Helping People Stay in Their Homes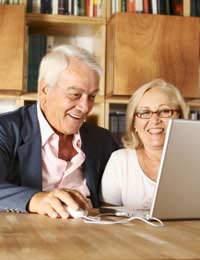 Twenty years ago it would have been hard for people to imagine that a few years on everyone would be walking around speaking on mobile telephones and logging onto the world wide web. Technology has not only brought people closer together, it has also paved the way more people to stay in the comfort of their own home.
How Technology is Helping
One of reasons people are forced to move out of their homes is because they need 24 hour care from either a nurse or helper. These days could be over though with the NHS launching a number of devices that make it possible for disabled or those suffering from ill health to stay at home.
You are now able to get medical help from the comfort of your very own chair, with no need to go into hospital.
What is Telehealth
The new buzz word in the world on home care is telehealth. The NHS has launched a number of devices that are designed to make you feel safe and cared for in your own home.
It is now possible to hook up with your nurse via your phone line and speak face to face via an interactive audio-video, without needing to go anywhere near a hospital.
You can even check your own blood-pressure from home and send through the results to your local nurse. These are not the only gadgets that are available, it is also possible to install a number of sensors throughout your home which will tell you things such as when you should turn off your taps and when you have left something switched on.
If you are living alone you should consider getting a Lifeline or Personal Emergency Response System, which will allow you to alert somebody if you have an accident or fall over. The device will have a small transmitter in it which you will be able to press if such an accident occurs. It will not only inform the hospital but can also link through to a relative or neighbour.
Technology can also help bring your social life to back to life. More older people are discovering social networking sites and email, which gives you the impression of belonging to a community and allows you to visit friends from your armchair.
There are a range of other accessories you can equip your home out with, such as robotic sensors that will tell you when your dinner is ready, when your room is too hot and when you need to take your medication.
Paying for Equipment
Grants are available from the government to help meet the cost of all the latest technological advances. The Department of Health is the best place to contact to enquire about the most recent grants on offer.
They will often judge it on the basis of how bad your health is and who is the priority but there is no guarantee they will be able to help you out.
The latest technology can often be expensive and a number of outside firms will offer different rates and prices for the equipment. It is worth shopping around and trying to find the best deal.
The department of Health should be able to offer you some assistance as to which firms offer the products.
Advances in technology mean that even if you are living alone you need not be lonely. Computers and technical advances can offer you help and assistance in your old age and give you the independence to stay in your own home.
You might also like...