Living Comfortably in Retirement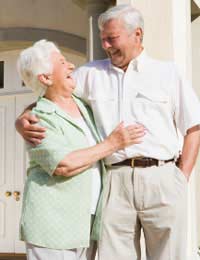 Over 65 year olds are estimated to spend as much as 80% of all their time in their homes, so it is important that you make the right choices regarding your accommodation.
The Cost of Comfort
Despite the growing popularity of care homes, 90% of older people still live in mainstream housing with the remaining 10% living in care homes and supported housing such as rented sheltered housing and private retirement leasehold housing.
The majority of people in their old age are still homeowners, with around 69% of these without a mortgage and close to 8% still paying theirs off. If you are in retirement and feel like you are the only one still paying off your mortgage, don't worry, you're not alone.
Figures from Age Concern show around 12-16% of older people are renting from their local authority and around 10% from their housing association, with 5-6% renting privately.
Some 4% of people aged 65 to 69 live in sheltered housing, with this figure likely to rise the older you are, with the figure around 7% for people aged 70 to 74 and 10% for people aged 75 to 79.
The Future of Housing
The government has set the target of 3 million new homes to be built for older people by the year 2026. This is an important step for the government and something that needs to be addressed as currently one-third of households in the UK are occupied by an elderly person.
Older people are expected to comprise 48% of all new household growth in and up to 2026, but in some areas in the North, such as the North East this figure will rise further to 70-89%.
The government has introduced the plans in order make the condition of UK housing for the elderly more acceptable. It is not acceptable that 28% of people aged 60 or over are currently in non-decent homes.
Shockingly this includes 900,000 households which contain someone over the age of 75.
One of the main factors that makes households not up to standard is the lack of insulation or effective heating. This type of property accounts for 73% of all non-decent houses.
There is also a lack of energy efficiency homes for the older generation, 10% of all households are energy inefficient.
Adapting Your Property
When it comes to moving around in your retirement home you may need to have it specially adapted to meet your needs.This could mean installing handrails, external lights or stair lifts. Some needs are more complex and you may be forced to move home to cater for your needs as you get older.
Figures show that around a quarter of a million people in the 65 and over age bracket need specially adapted homes because of a medical condition or some form of disability. Unfortunately there are around 130,000 over 65s living in the UK that are living in accommodation that does not meet all their needs.
Living comfortably in retirement is not always as easy as it seems. The facts show there are a growing number of people who are not in suitable housing and their quality of life will be diminished because of this. Whether you choose to live in a care home, in your own home or sheltered accommodation in your retirement, make sure you make the right choice and don't end up as one of the many over 60s in the UK that are not happy at home.
You might also like...
I am gathering information on behalf of my parents who are considering making the move to assisted accommodation. My Father who is 78 has Parkinson's and anticipating the need to be in a wheelchair soon is looked after solely by my Mother who is 76. After a bout of illness herself my Mother felt that it may be the time to find somewhere to live where they would have independence combined with 24 hour support. They currently live in Buckland Dinham north of Frome and are keen to remain in the west country and I am trying to gather as much information as I can on what's available and what would be suitable. Please could you send me details on accommodation and anything else you feel relevant. Thank you very much. Kind regards, Emma Woods
Emma
- 13-Jul-13 @ 8:43 AM