Destination - Home or Abroad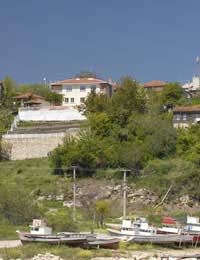 When it comes to choosing a retirement property many people simply decide to stay in the UK and base their choices around issues such as staying close to family and friends, easy access to medical treatment and the British way of life. For others, however, retirement brings with it a long-held dream of being able to sell up and start a new life overseas. This article will outline the pros and cons of moving abroad after you retire and will illustrate the kind of issues you'll need to consider.
Why do You Want to Move Abroad?
If you have thoughts about moving abroad in your retirement, the first thing you should do is to determine the reasons why it appeals to you. The weather is likely to be an important factor or it could be that you have a passion for a particular country and its way of life. The cost of living is also likely to be a significant factor although you need to do your homework here as what may appear to be a far cheaper country than the UK when you go on holiday might prove to be more expensive overall, when you factor in additional costs of living there. Once you have drawn up a list of all of the reasons why you want to move abroad then you can work out which country would suit you best, if you don't know already, and then you'll need to weigh up your reasons against what you might stand to lose.
Climate
The weather and climate is by far the most popular reason given for moving abroad when people retire. Not only do warm, sunny days tend to make you feel happier inside but it has been proven that a milder, sunnier climate can bring positive benefits to your long-term health too. As well as being less likely to suffer from things like colds and flu, your mood and spirits will be lifted which means you're less likely to suffer from things like anxiety and depression. Furthermore, if you indulge in pastimes which rely on good weather; cricket, tennis, golf and other outdoor sports, including watersports, for example, you'll be able to spend more time doing these activities than you would here in the UK. On the downside, however, a couple of 2 week holidays in the sun each year is not the same as living in a hot, sunny climate that tends to be constant year round. Would you be comfortable with that? It's often only when you move to somewhere where the weather is fine year round, that you can sometimes find it gets hard to adjust to not having the UK's four seasons to look forward to.
Cost of Living
The relatively lower cost of actually buying a home abroad in many countries is a huge attraction for many Britons as they can often get far more for their money than they could ever do here in the UK. But remember to employ the services of a good local solicitor who deals with real estate matters before you part with any cash. Not only are there likely to be hidden charges, but someone who works in this field with local knowledge might also be able to tell you of any possible new housing developments that might be getting built and which might devalue your own particular property. It usually follows that if property is cheaper than in the UK, then that will almost certainly be mirrored by the cost of living in general.
Healthcare and Insurance
Depending on where you are heading for, you're going to have to ensure that you are covered for medical costs as a resident. Given you're retired, it's fairly likely that you'll need to visit a doctor and/or hospital at some point as you get older and, as most countries do not have anything remotely similar to the NHS, you could run up an astronomical sum of debt if you haven't taken out adequate and the right kind of medical insurance and, in some cases, you might be refused treatment altogether.
Support
One of the biggest barriers preventing people carrying through their dream is that by moving abroad, you'll not be able to count on the same level of support from family and friends. You may not get to see your children and grandchildren so often and you'll be away from your closest friends. These are all very important factors that you'll need to bear in mind when you're considering emigrating. Of course, you don't need to emigrate per se. Many people choose to just escape the UK winters and just head off to the sun for a few months each year, returning to the UK to spend the spring and summer months.
If you're still not sure whether a retirement property abroad is for you or not, one of the best ways you can go about dipping your toe in the water is to take out a long-let on a rental property first and see how you get on. That way, when you return home to the UK, you'll have a far better idea of whether it's the UK, overseas or a combination of the two that will suit the retirement lifestyle you're looking for.
You might also like...