Dealing With Personal Changes in Retirement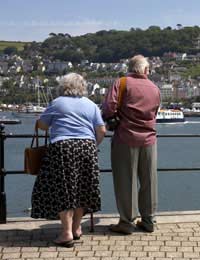 Moving home is one of the most stressful things you can do at any time of life, but when it comes to doing it in retirement, it can seem even more stressful. When you're younger and are more adept at coping with change and taking a few risks, to move when you're older will be something you'll have thought long and hard about and, having taken the decision to relocate, you're likely to have much more mixed emotions about whether or not you're doing the right thing. There will be other things that will need to be taken into consideration when you move in retirement, especially in instances where you've no real desire to move but you know it's for the best.
Mobility Issues
Sometimes people need to sell their home and relocate to a more suitable property because they're experiencing mobility difficulties. It could be as simple as not being able to get up and down the stairs quite so easily any more but, in other instances, perhaps your mobility has been impaired to such an extent that even day to day tasks and just getting around your home is now proving too difficult.
You may have decided to move to a place which is fully equipped with things like ramps, grip rails, stair lifts, bath hoists and other mobility aids which will make your life easier. Although you realise that life is going to be so much more comfortable for you in the new place, perhaps the move will be tinged with regret because you're reluctant to leave a home which has brought you so many fond memories. In some cases, people decide to modify their existing property to make it more user friendly for getting around and there are plenty of companies who can help you with tailor made installations of mobility aids and other safety features.
Moving into a Care Home
Moving into a care home is perhaps one of the most difficult decisions you or your loved ones will ever have to make. For many people who have no alternative but to go into residential care, they perceive this to be the final loss of their own independence and a devaluation of their own personal memories. This is quite understandable yet these negative emotions can be alleviated somewhat if you focus more on the opportunities it could still present. New friendships could be forged and there could be more activities to pursue. You'll also benefit from the security and knowledge that your best interests and both your physical and psychological welfare will be at the heart of the care that's provided to you. Furthermore, if your health deteriorates, you are best placed to get immediate attention and a lot of people who have to go into a care home can take a lot of comfort in these things.
There are other changes that can occur in retirement when it comes to looking at your living arrangements. Perhaps on a financial level, you may need to sell your property and move into somewhere smaller and you may even decide that it's best if you rent a place and use some of the equity from your home to help you out in other areas of your retirement plans. Leaving a much loved home is always a wrench but it is also an opportunity for new beginnings too and it's your attitude in dealing with these changes which will ultimately determine how easy or difficult it is going to be to re-adjust.
You might also like...