The Emotional Effects of Moving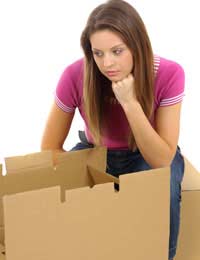 Moving home is a stressful experience at the best of times but, in retirement in particular, it can be quite an emotional experience. Most people will form an emotional attachment to their home whether a move in retirement is being viewed as a positive step or if it has become a necessity.
Leaving Friends, Other Family And The Familiar Behind
One of the most emotional effects of moving home is the fact that you're likely to be leaving family, friends and the familiar behind. Most of us gain a lot of comfort from the familiar. It enables us to feel grounded and connected. It may well be that, as you enter retirement, you may have been living in a particular community for some time and have decided to make a move. This might be because your existing property has become too big or too difficult to manage and you may be looking to downsize to help free up additional funds to supplement your pension. Perhaps you're planning a new life overseas in the sun and the benefits of that far outweigh your reasons to stay.
The important thing about making a move for whatever reason is to recognise that you're bound to experience a whole range of emotions in the process. Maybe you're quite excited at the prospect of a move you've been planning for some time but then the reality might set in with regards to the lifelong friends you've made, any family you have living close to you as well as the surroundings you're familiar with and feel comfortable about. How you cope with this aspect of moving in your retirement is much to do with your own attitude.
The internet has made it so easy to keep in touch with people these days and not only to keep in touch with them through the likes of e-mail and instant messenger but to actually see them too. A good idea is to buy a webcam and microphone which will enable you to have video and audio conversations with loved ones wherever you may be moving to. And, don't forget there's still the good 'old fashioned telephone'.
As for the 'familiar', make it a point to do some research on the place you're moving to. Familiarise yourself with your new community – its shops, community groups, leisure activities etc and make it a policy to see it as an opportunity for new experiences and the chance to make new friends. Try and make it a point of getting to meet a few new neighbours before actually moving, if possible. Remember, new friends doesn't mean that you're losing old friends. Depending on where you're moving too, you can always invite people to stay with you and arrange to come back for occasional visits.
Possessions
Another aspect that can affect you when you're moving is the emotional attachment you've made to material possessions in your existing home. The important thing here is to also view this as a chance for a good old clear out. Naturally, there will be many possessions which you'll want to take with you but it's also a good opportunity for a thorough de-cluttering exercise. In doing this, it will have added benefits as not only will you have less 'junk' to organise in your new home, de-cluttering also allows you to free your mind from emotional attachments which enables you to form new attachments in your new home.
Planning
The best way of ensuring that you'll be able to cope better with the emotions you'll feel when moving home in retirement lies in effective planning. The examples above, alongside things like arranging any changes to pensions or things like medical arrangements in your new community will give you a greater sense of security and peace of mind. Plus, things like organising happy events such as a farewell party can often take the strain off the stresses which accompany any house move.
Life is constantly evolving whether we like it or not. And, whilst some people fear change, those who embrace it and view it as an opportunity for new experiences tend to reap the benefits more than those who resist it.
Therefore, by accepting the realisation that any house move, particularly in retirement, is going to mean change and that you'll inevitably experience a wide range of emotions, both happy and sad, you're far more likely to adapt more easily to the changes you are going to experience and to be able to go with the flow.
You might also like...