Moving in to a Hospice and What to Consider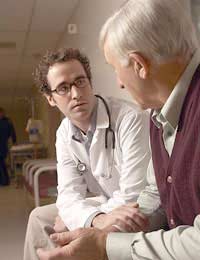 Moving into a hospice is likely to be a very highly emotional experience both for the patient in question and for their family and friends. Unfortunately, 'palliative care', which is a term associated with hospices, is a matter of trying to reduce the severity of a patient's symptoms and to make their latter days as comfortable as possible as opposed to being able to cure them.
Hospices recognise that a terminal illness is not just something which is difficult for the patient themselves to come to terms with but it is also very difficult for their loved ones, perhaps even more so, which is why they will not only be concerned about assessing the physical needs of the patient but will also do whatever they can to offer emotional and spiritual support to the family and close friends of the patient.
Home or Hospice?
To some people, the thought of moving a loved one into a hospice is a prospect which is too upsetting to even consider as it signals the beginning of the end for the patient and, depending upon the nature of the illness in question and the speed at which the patient's health is deteriorating, it is sometimes possible for a hospice to be able to assist with caring for the patient within their own home.
However, it's important to remember that a hospice is staffed by highly experienced professional physicians and nurses as well as additional support staff such as chaplains, physiotherapists and other types of therapists. As such, although you may be faced with a difficult decision, it might reach a point whereby it is by far the best option for the patient to go into a hospice where they can receive the most amount of attention and care and where their suffering is going to be minimised better.
That also offers relief to the additional pressures which will inevitably result for family members who are trying to care for their loved one at home but who might, understandably, find that it's simply too difficult to cope with at some stage.
Pain Management
One of the primary considerations when looking at the option of a hospice is going to be how the patient's pain will be managed. Hospices specialise in this with physicians who are expert in controlling pain through medication and via other therapeutic methods. They're also complimented by nurses who are trained to ensure that the patient is as comfortable as they can be whilst also providing emotional support to both the patient and their family.
Spiritual Support
Even if you or the patient does not have any real religious affiliation, hospices tend to be places in which, because of their very nature, both the patient and their loved ones can benefit greatly from the spiritual support provided by counsellors and the chaplain connected to it.
Furthermore, with the inevitable passing of the patient, bereavement counsellors can provide those left behind with a great sense of comfort and are experts at helping people work through the grieving process and this support will usually be offered for perhaps up to a year, if needed, after a patient's death.
In fact, many of those loved ones left behind will often go on maintaining their relationship with the hospice through assisting with fundraising and other charitable events with which it is associated long after their loved one's death.
And although a hospice usually, sadly, signals the move towards the end of a person's life, many people who have been through the experience will have stated, whilst alive, that the hospice provided them with so much love, care and a sense of peace and tranquillity in addition to them trying to make their final weeks on earth as joy-filled an experience as is possible under the circumstances.
You might also like...