Information About Care Homes in Retirement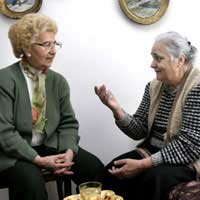 At some point in retirement, or in some cases, even before retirement, a person's medical needs are so great that they are no longer able to live independently within their own homes and may need to consider specialist care. There are hundreds of care homes in the UK and many of them specialise in caring for people with particular needs. Your local council is your best first port of call when looking to find a care home that suits your needs or the needs of a close loved one. The Commission for Social Care Inspection (CSCI) also keeps a list of all the registered care homes in England and charities that are specifically related to a particular illness or condition are also useful contacts when searching for an appropriate residential care home.
What Will a Residential Care Home Provide?
Staff are on hand 24 hours a day within a care home setting so that residents' needs are catered for around the clock. Care homes provide both accommodation and all meals and are responsible for caring for residents who have either physical or emotional needs (or both). This might be on a short-term basis if, for example, a person is getting over a short-term illness or it can be on an ongoing basis in instances where a resident is likely to need care for the rest of their life. Some care homes are often referred to as 'nursing homes'. These have a similar set up but have fully qualified nurses on hand, 24 hours a day, where residents need nursing care around the clock.
Choosing a Care Home
Alongside advice and recommendations which you can get by contacting one of the organisations previously mentioned, it's always advisable to visit care homes personally before making a choice. In certain circumstances, perhaps it will be the decision of the next of kin of the person who will be going into the home but, where possible, the person who will become a resident should have as much say in the decision making process as possible.
Speaking to staff and to other residents and just checking out the facilities and the general upkeep of a care home is a good way of determining a home's professionalism and suitability for you or a loved one by seeing it being run for yourself.
Some people who want to 'vet' a care home tend to turn up unannounced so that they can see for themselves how it is really being run without thinking that 'preparations' might have been made for their visit if they called to arrange it beforehand. Care homes are usually quite familiar with this and are happy for you to turn up unannounced to view the home but, if you decide to do that, you should try to avoid meal times when the staff members are often at their most stretched. The CSCI also produce annual inspection reports of all of the homes in its directory which can be accessed by the general public.
Meeting the Costs of a Care Home
Depending on how you stand financially, you may or may not need to meet all or part of the costs of accommodation and care which will vary from home to home. Your local council will be able to advise you on this but you'll need to meet the eligibility criteria as laid out by the Government to determine whether or not you'll receive any state help to cover residential care costs.
The decision to move into a residential care home or to put a close relative into care is often difficult but, in reality, it can sometimes be the best option. Where you may not be entirely certain if it's the correct decision, it's well worth speaking to your local GP and/or social services first as they are able to carry out a detailed assessment which can determine whether or not a person needs to go into a home and, in some instances, it can even be the case where they can suggest alternative solutions for some people whereby they can keep their independence and stay in their own home with, perhaps, occasional visits from home care workers or maybe by having modifications to their house carried out, in cases of mobility difficulties, for example. However, for those who have little option but to go into care, then it's important you do all your research first to ensure that from both a suitability and from a financial perspective, you find a care home that's appropriate and one which will suit the prospective resident's care needs best.
You might also like...