Living Alone in Retirement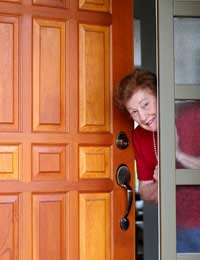 Living alone after retirement is something that provokes many mixed reactions. Because of the aging process, it will be inevitable that the passing away of a loved one at some stage will often mean that you are forced to live alone whether you like it or not and, if you've been used to living with your husband/wife/partner for many years, a lot of people find it very difficult to come to terms with. On the other hand, many people actively choose to live alone and truly enjoy it whilst others may have been used to sharing their living space, yet have been bereaved but then have gone on to forge a happy life for themselves living independently.
Benefits of Living Alone
It's important to establish that there is a marked difference between being 'alone' and being 'lonely'. Many people actively choose to live alone and are very happy to do so. They point to things like being able to do what they want to do, when they want to do it and having total control over things such as what they eat, what they wear, how they spend their leisure time, what time they go to bed and get up of a morning etc. without anyone passing judgement on them, to be an idyllic lifestyle. Then there are those also who might be sharing their life with someone else, yet feel completely lonely or isolated simply because their relationship with their partner may have broken down or simply stagnated. The point about living alone, however, is that whether it's been due to a conscious decision on your part or has come about as a result of your partner's death or maybe a divorce, it's your attitude, above all else, which will ultimately determine how happy a life you lead.
How to Live Alone Successfully
Apart from a small minority of people who, for one reason another tend to live alone and not interact with anybody choosing to live in their own secluded bubble, the vast majority of people who live alone are just the same as those who share their living space. To live alone successfully, they'll have a social network with friends they can spend time with occasionally and many will also have an active life in terms of hobbies and activities that they'll pursue. In fact, it is these two crucial aspects of living alone which are fundamental in your success in enjoying your own company. Without the support of friends and family members or having no external interests can make living alone quite an isolating experience so, if you suddenly yourself living alone, it's important to make sure that these two aspects of your life are fulfilled.
Obviously, there will be a number of challenges to face when living alone. The actual financial cost of living may be a little more expensive as there's only one of you to pay the bills and you won't have anyone to share the chores with around the house. Day-to-day social interaction such as simply having a conversation about what you've just watched on TV is a bit more difficult. Then, if you're ever poorly, you've no immediate person you can immediately turn to for help but, in reality, these are all obstacles which are relatively easily rectified. For example, one person will mean fewer chores anyway and, you may be able to get people in to help with that. If you're poorly, there would usually be someone you can phone who can provide you with some assistance or can alert your closest friends or family members and, as for chatting about the TV programme you've just watched, then with a phone and computer, your social network can be as big or small as you want it to be and can even transcend conventional boundaries. As for the financial implications, one person's bills are not that much more than 2 people's and, in many instances, you can get additional help from the state to reduce your costs, council tax reduction for example.
If you end up living alone not out of choice but, perhaps, because of bereavement or divorce, it can take a little time to re-adjust but the more positive you are in embracing the change, the sooner you get used to it and, for many people, it opens up a whole new world to them – a world which they might not have previously considered but which allows them to stay happy and content throughout the latter stages of their life.
You might also like...