Can My Mortgage Overlap Into Retirement?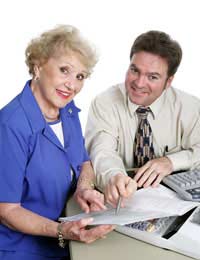 For many people reaching retirement no longer means struggling to survive on little money and having to cut back on their usual standard of living.
Savvy savers and those who have done their planning often find they are still financially wealthy in their retirement and can afford to live a comfortable lifestyle.
For some it is no longer the case that they look to have their mortgage paid off before reaching retirement.
Why Mortgages In Retirement Are Increasingly Popular
The average age of a first-time buyer is steadily creeping up and it is not uncommon for people to get their first mortgage in their forties.
The later in life you get a mortgage the higher the risk that it will overlap into retirement.The average term of a mortgage is usually 30 years, which means if you do take out a mortgage when you are forty you will not pay it off before reaching 70.
For some this does not pose a problem, with the retirement age creeping up steadily by 2020, borrowers can afford to extend the length of their mortgage that bit further.
The Practicalities of A Mortgage In Retirement
If you are looking to take out a mortgage that will overlap by just a few years into your retirement, this should not be a problem for a mortgage lender. If however you want to extend the term of your mortgage to the age of 80, you may have some problems. If you are in your thirties or forties and want to take a mortgage out into retirement you will need to prove what your income is going to be in retirement.
A lender will want to know what pension or savings you plan to have in retirement or if you are going to rely on any inheritance/shares. Nobody has a crystal ball though and a lender will understand that it is hard to predict what your finances will look like in retirement. What they will want to see though is some evidence that you will have some sort of income coming in, such as a second pension or savings.
A lender may look at your finances now and deem you as a worthwhile candidate for a borrower and will then reassess your situation closer to retirement to make sure you are still on track to have some kind of income in retirement.
What Type of Mortgage can I Get?
Unfortunately not all lenders like the idea of lending to borrowers in retirement and many will have a cut off point of 65 years old and will not lend to anyone past this age. Most mainstream lenders though will look at applications on a case to case basis and use their discretion as to whether you will be able to afford the mortgage.
It is very unlikely however that you will be given the option of an interest only mortgage if your mortgage term will extend into retirement. This is because there could be a shortfall in the mortgage payments if house prices go down and you could be left in negative equity.
Can I Decrease The Term?
Many first-time buyers who are in their twenties will opt for a mortgage that runs into retirement. If you are a first-time buyer struggling to meet your monthly mortgage payments and interest-only is not an option, extending the term on your mortgage may offer you a lifeline.
Somebody in their twenties taking a mortgage over 40 years will have much lower payments than somebody taking it out over 30 years. You will also have the option to reduce this further down the line. If for example you reach 35 your house has gone up in value and your mortgage payments have fallen you can decrease the term of your mortgage back down to retirement age. This may mean slightly higher payments but it will be a nice feeling knowing you don't have a mortgage to pay in retirement.
Mortgage lenders are becoming much stricter about who they will lend to and on what terms. But this does not mean they are closed for business, they just want to make sure the mortgage they are giving you is going to be affordable and not stretch you financially. It is right to say that many lenders do not like lending into retirement but they will also use common sense and not turn away a borrow who will be able to make the payments and is a good risk.
You might also like...